History
La Vecchia Oliviera is located in the ancient village of Campagnatico, a quaint medieval centre dating back to the tenth century, with its imperious fortress Aldobrandesca, spread out like an old man asleep on the magnificent Tuscan hills, overlooks with all its history the Maremma, a land whose vastness leaves you breathless.
The splendour of this land is also reflected on its tables and it is here, by sitting down, that our journey begins, a lovingly laid out table, a characteristic restaurant with a traditional flavour La Vecchia Oliviera, which takes its name from the old mill that houses it, a place with a truly magical atmosphere.
After walking along the narrow streets and amidst the ancient stones of this enchanted village, soaking up the history you can finally rest, eat and drink in this relaxing, modern yet characteristic setting.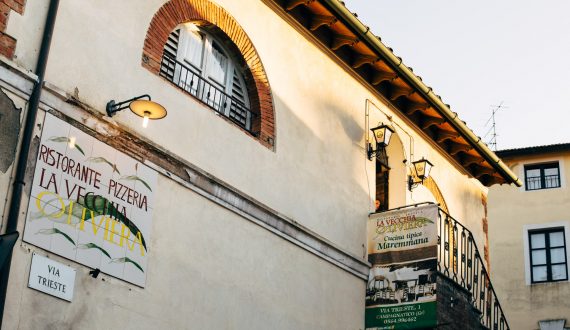 Elegance and Hospitality
Attentive service is just as important as the cuisine and the raw materials chosen. La Vecchia Oliviera's professional staff ensure you have a pleasant time and your events or occasions are a success. In the exquisitely furnished restaurant you will find a huge fireplace that will give you a warm embrace during the winter months.
The table carefully laid out, the friendly service and the passion of Corrado and Fabiola, owners and soul of the restaurant you can sense in the air, all create a relaxed atmosphere that entices you to return. The restaurant is suitable for both romantic dinners and receptions.
Professional Service
Corrado and Fabiola's
love for their work is reflected in everything this magical place has to offer.
After walking along the narrow streets and amidst the ancient stone of this enchanted village, soaking up the history you can finally rest, eat and drink in the restaurant's relaxing, modern yet characteristic and refined atmosphere.
During autumn and winter, the restaurant is also open for lunch on Sundays (closed on Wednesdays).
It is open every evening during the summer.
La Vecchia Oliviera also provides a catering service for your events and special occasions. The organisation and equipment available ensure a professional service and the same passion found in the restaurant's kitchen .. wherever you want. We prepare proposals, menus and quotes for all requirements, ceremonies, buffets and inaugurations.
Cucina di prima qualità
Corrado e Fabiola
, sommelier e cuoca eccellenti, gestiscono
La Vecchia Oliviera
con rinomata gentilezza. Per la loro cucina usano prodotti di prima qualità, tutti a chilometri zero, d'inequivocabile freschezza e genuinità. Così come i vini che provengono principalmente dalle cantine locali, essendo la Maremma particolarmente vocata alla coltivazione della vite sin dal tempo degli etruschi. Non a caso Campagnatico (doc Montecucco e Morellino), si trova in zona prossima al Brunello di Montalcino, nonché al Chianti ed inoltre, la cantina è fornita di vini di altre regioni.
La Vecchia Oliviera gode della certificazione AIC che garantisce un'ottima cucina celiaca (senza glutine). Antipasti ricercati e sfiziosi, primi che rispettano la tradizione e rivisitati dalla cuoca, secondi di carne di allevamenti locali e cacciagione, dolci rigorosamente fatti in casa che rispecchiano e  rivalutano le antiche ricette della zona, così come la presentazione minuziosa e ricercata, per il piacere degli occhi.
Particolare cura viene riposta nell'ideazione nei menu delle festività pasquali e natalizie. L'amore che Corrado e Fabiola hanno per il proprio lavoro si rispecchia in tutto ciò che questo posto magico offre.